I was born in East London, South Africa in 1965. There was no Television back then and from an early age I fell in love with 'Radio'. This was largely due to my Ouma – Mrs Vallery Branders. She was a very 'well-to-do' woman. Very well spoken, always immaculately dressed and I remember – always smelt nice! She worked as a beautician at a local Pharmacy – Kirkmann & Wessels. She loved Radio as well. Her and my Oupa met during the early years of Broadcasting at the SABC in Durban. She often used to tell the story of how my Oupa (Charles Branders) and her acted in an Afrikaans Radio Drama called 'Die See'. During the credits they mentioned "Die Branders het in Die See gespeel". She also took part in many musical broadcasts at the SABC. Here she is (the lady leaning against the piano 2nd from the right). The second photo is one of my Ouma & Oupa taken when I was a young child (Charles & Vallery Branders)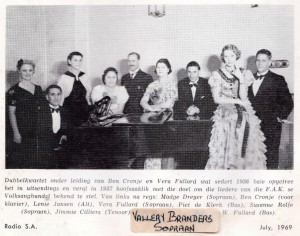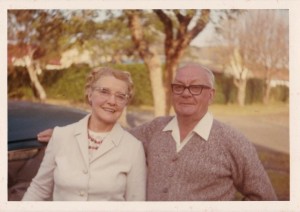 Her portable Radio was always positioned next to her portable Cassette Recorder in her bedroom and she was forever recording programs from Springbok Radio when she was not able to listen. Very often this was because she had either entered a competition or written a letter to a request program and she did not want to miss hearing her name on 'The Radio'. I used to spend a lot of time at their home when I was a young boy and this love for Radio rubbed off on me in a big way. After she passed away, a number of years back now, I 'inherited' boxes of cassette tapes, many of which contained recordings from Springbok Radio. Over the years I have tried to preserve these recordings digitally. Many of them are in incredibly bad condition and are unable to be restored, which is sad, but it is an ongoing project and there are still a number which I haven't got to yet.
By the time I was in my teens, my Mom, Dad, Brother & I had moved to Pretoria. My love for Radio grew stronger with each passing year and I decided that 'when I was big', I wanted to be a Radio Presenter. As a young boy I particularly enjoyed listening to David Gresham on Springbok Radio and when everyone was out at home and I was alone, I would 'play Radio'. I would sit on my bed with my little portable orange Record Player, my Cassette Deck (which contained Adverts I had recorded off of the Radio), a notebook with lists of made up names of prize winners and piles of my Mom & Dad's old vinyl LP's and 7 Singles – and I would become David Gresham presenting to my imaginary listeners! David Gresham is the main reason I am in Radio today. He inspired me the most when I was a young boy. He showed me that the pictures are always better on Radio – and he never knew it. We've never met.
While in Pretoria, I visited the Rand Easter Show in Johannesburg as a 16 year old (around 1982) and visited the Springbok Radio Caravan where David Gresham was broadcasting. It was there that I met Tinus Esterhuizen, who invited me to visit the SABC the next week. That would be the first of many visits over the next two years where I helped out in the Record Library meeting a number of the Presenters from the heyday of Springbok. The Radio Bug continued to bite. Here I am (on the left) with Tinus Esterhuizen & Richard Jon-Smith at the Springbok Radio Caravan.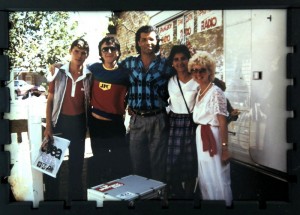 I would need to wait until the age of 30 before breaking into the Radio Industry though – when I joined a new Community Station in East London called Link FM – in 1997. I have been involved with the Station ever since and currently present The Afternoon Drive Weekdays from 3PM on 97.1FM in East London (It can be heard on DSTV Audio Channel 875 as well). I was blessed to win an MTN Radio Award in 2015 for 'Best Presenter, Community Radio Afternoon Drive Program'.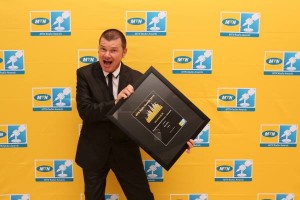 These are the sound files I have managed to preserve from my collection. Of them are in 'not so good condition' quality-wise so you need to listen carefully. There are a few files named 'Unknown' near the bottom of the list. I would appreciate it if anyone could tell me what they are.

I will add more as time goes by.